Happy Easter!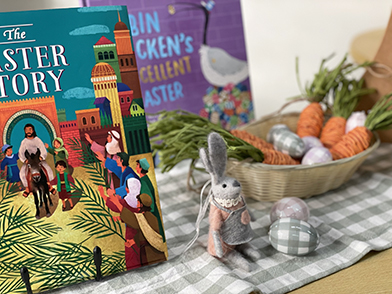 Happy Easter!
We are looking forward to our students, staff and parents celebrating Easter and the end of Term 1 at our Erasmus Easter Service on the final day of term – 8:45-9:30 am, Thursday, April 6.
Our students have been reflecting on the meaning of the Easter story in Philosophy and Scripture over the past few weeks. The service will include Bible readings, songs, piano solos, great artwork and quotes from the children's lessons with Miss Pope. It is a very special and sacred event, and a beautiful way to bring the term to close in honour of the one true Spirit in us all.
An Easter message from Travis, our School Chaplain:
It's Easter! That means, depending on what you love, hot-cross buns, chocolate, time to relax, and, for many people, church. To maximize enjoyment, I combine them all and have chocolate and hot cross buns while relaxing at church! Easter is a time for many to remember the 1st century middle eastern Jewish man Jesus, especially his death and resurrection. The story is found in all four accounts in the Bible. Some traditions celebrate Lent in the lead-up to Easter, commemorating the 40 days of Jesus' fasting. In modern times this usually involves some form of going without something. Many Catholic believers follow the stations of the cross, a 14-step journey to remember what Jesus went through. The Orthodox churches celebrate Easter a little later, which is one of the most significant events on the church's calendar. Our own culture, for the most part, closes down on Good Friday, which says something of its historical and current cultural significance.
This term, we've been reminded at school of the importance of respect as we come to understand ourselves and others better. Easter may prove for you and your family a fitting occasion to demonstrate such respect by learning something new about yourself, family and friends, and your neighbours, and appreciating the things that make you different and those you have in common.
Enjoy your break, the chocolate and the hot-cross buns. Happy Easter!